From the Innisfil Scope, by Chris Simon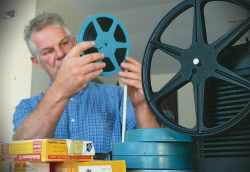 Larry Hurd is putting a new spin on old memories.
As the owner of Manic Media, a Barrie-based video technology company, Hurd is doing some unique things. The business opened in 2007, and since that time, he's earned a steady stream of clientele by converting old film and cassettes into DVDs and CDs. Eventually, he'd like to start producing digital biographies by creating television-style documentaries about their lives.
"Whatever the format, I can copy it," he said, surrounded by new computer technology, old film reels and projectors.
"The whole reason I'm doing this is so I can produce digital biographies for people. "My hope is that once I get people to give me this stuff, the next step is putting it together to music or we can go the full route, write a basic script outline and do it like the Biography Channel. I would do the voice over, write the script, go into the family's home, do interviews and try to make the process a family event..
"I'd come out with my camera and interview a variety of relatives."
Hurd knows plenty about video production. He has been involved in television broadcasting for 30 years working at CHCH in Hamilton and CTV Toronto.
Currently, Manic Media also creates infomercial style DVD productions for businesses, and is beginning to produce website videos, using Apple Final Cut Pro and a Panasonic video camera to edit and shoot respectively. Hurd says there could be a significant market for video biographies in the area.
"You tend to want to immortalize yourself somehow, and that's what drove people to (be in paintings)," he said. "They wanted to know their painting would be hanging prominently after they were gone and people would remember them. With video, we have the opportunity to know who our ancestors are. Imagine 75 years from now the stuff that I'm shooting today will have been passed on to the next generation, and instead of hearing stories, you'll actually be able to see and hear (the person) and get a feel for who he or she was.
"Rather than clippings in a scrap book, you'll have them on video."
It's important to get old technology converted, since its quality can deteriorate over time, said Hurd.
"Heat, humidity, and improper storage take their toll on tapes, decaying the magnetic particles that represent your child's first steps," he said. "By digitizing that old footage now, you can effectively stop the deterioration in its tracks. Transferring your old film and video to DVD can be a time consuming and frustrating process, but it's well worth the effort."